Senior Member
Join Date: Jun 2012
Location: Sydney
Posts: 221
Thanks: 218
Thanked 102 Times in 47 Posts
First time on the track!
---
Advanced Rider Training with Top Rider (Bernie Hatton) at The Farm, NSW.

Awesome. Great fun, and learned heaps; probably more than I comprehend right now. Am exhausted, but too fired up to sleep.

Nonetheless, at the same time as being awesome, I came away feeling a bit deflated about my own performance and disappointed that I don't think I met my own expectations. That said, I think the real problem was that of being the only novice. I had the least riding experience by at least 10 years and all the other guys had ridden track often. (To put that in perspective, I've been on my P plates for all of 3 months.) It was impossible not to compare myself with the rest of the guys and show up poorly as a result. Besides my 250 steed, the next "smallest" bikes were an MV F3 (a wet dream machine) and a tracked-out R6. Neither are anything less than hard-core sports bikes. Then there was an R1, two BMW S1000RRs and a string of Ducs: an 1098, 2x 1198s and 2x Panigales.

This was less about Advanced Rider Training than Advanced Rider Training. I needed the former, but the rest of the guys were there for the latter.

The track is a-m-a-z-i-n-g. Totally private; so much so we had to sign statements we wouldn't divulge the location (although you can see it on Google Maps, so I don't know how its possible to really keep something like that "private"). It's more than 5ks and has 29 turns. It's also got hills which make for more fun. The rumour went around that it was built by the (clearly wealthy) mother of a few guys who kept losing their licences and going to jail for road racing their sportscars; she told them "no more bail-outs and no more prison visits. Now you have NO excuse." I'm not sure I believe that, but it's a good story. Anyway, it is pretty f6cking WOW. I wish I could ride on it every weekend; it's a terrific place to practice. There is a beautiful string of esses which we did lots of exercises on, but some bl00dy terrifying bits too; a hair-pin that I just couldn't nail and some steep descending bends.


The instructor group was pretty awesome. As well as old Bernie, it included superbike champs Gareth Jones and Shawn Giles as well as Alex Cudlin from Ultimate Rider. Gareth particularly was just terrific. Really took the time to go back to the basics for me, helped me with some "formulas" to help build some better riding habits, gave very precise (and thus helpful) critique as well as some much-appreciated encouragement. Dude: Thanks A TON.

Some of the other punters were also pretty helpful and encouraging. You can learn a lot from older experienced guys. Even though they're there to learn too, they've got good stuff to share. At least two old guys said to me they thought it was great to see such freshie doing this course and that it would set me up well. That said, not all of them were so accommodating, I couldn't help but get the feeling that for at least a few of the other guys I was really just in the way. Despite the rhetoric that "this is not a race," and "its only about your own ride, no-one elses'," it is pretty hard to escape the pressure when you're being tailed by screaming Panigales.

Nevertheless—and this is the most important thing—I learned an enormous amount. Clutch and brake techniques; posture and positioning; the theory behind cornering and grip; amongst others. I felt terrific improvement in ALL of the exercises that were focused on specific activities or elements of riding technique. And this is where I had the most fun, repeatedly running through the beautiful esses feeling some improvement on whatever was the subject at the time.

Where it came unstuck for me was trying to pull it all together. As I focused on one or two or three things, others got fuddled. In the track sessions, the added pressure of being "the boy on the tiny" (nice, huh?) made it all the harder. In one of the final laps, the back end started to slip going into the scary hairpin. I made it through without dropping the bike, but only at a nana's pace. The embarrassing thing was that I was being GoPro'd by Bernie at the time. At least that meant that moment got some good analysis and feedback in the de-brief. But still… would have preferred some footage when at least I was getting something right and didn't look like a complete pussie. LOL.

Aufitt and Torchsport: Thanks for your advice from the earlier post, fellas. That stuff all held me in good stead on the day.

So overall. Did I bite off more than I can chew? Hell yeah. Was it worth it anyway? Totally. Will I do it again? D@mn right! But there's a chicken-and-egg: I need to get more practice up before getting back into the midst of group of guys like that but at the same time, where better to get more practice than an environment like that?

Oh, and next time, I will definitely do it with a mate who's close to my skill-level, so even if we're still the juniors, I won't be the only one.
---
Last edited by ozbenno; 11-21-2012 at

09:00 PM

.
The Following 13 Users Say Thank You to ozbenno For This Useful Post:

Aufitt

(11-23-2012),

CBR_Dave

(11-22-2012),

Gungnir

(11-21-2012),

jdvalentine

(11-21-2012),

Jme250RA

(11-21-2012),

LangoPTC

(11-21-2012),

lewiCBR250R

(11-24-2012),

Michael

(11-22-2012),

RubenAlonzo

(11-24-2012),

Steve_47

(11-23-2012),

Wanderer

(11-25-2012),

Will 250

(11-21-2012),

Wynne G Oldman

(11-22-2012)
Super Moderator
Join Date: Apr 2012
Location: Calgary, Canada
Posts: 2,030
Thanks: 2,190
Thanked 813 Times in 496 Posts
It's just a little addictive, huh! Just remember, those guys had to start somewhere too! You are going to be able to start your riding career with no bad habits!
---
Everyone has the right to be offended but just because you're offended doesn't mean you're right!
Senior Member
Join Date: May 2012
Location: Claremont, Ca
Posts: 100
Thanks: 40
Thanked 42 Times in 21 Posts
Thanks for the post. I'm doing my first track day in march so I appreciate hearing about your experience.
| | |
| --- | --- |
| The Following User Says Thank You to jdvalentine For This Useful Post: | |
Senior Member
Join Date: Jul 2012
Posts: 626
Thanks: 683
Thanked 292 Times in 178 Posts
Sounds great, and you had a blast too. Nice! Sounds good enough to lug the CBR over to NSW for...

Dave
---
Eleven hours in a tin can?
God, there's got to be another way!
Track days are the BEST! I have been doing track days for many years, I now race and Instruct for my local Track Org. One of the best things I can say about it, is USE the CR's/Instructors. We spend a LOT of our own money to help you (the rider) out. We waste Tires, Fuel, all to help keep your track experiance great and help you become a better, safer rider in the process.
For new folk, I say take it easy your first few sessions, learn the track, try to find the race line, try to find brake markers. FOLLOW the instructor, ON HIS LINE, not close to his line. If your org offers some class room instruction, TAKE IT! I dont care how long you have been riding, you might pick something up. I tell my students that, the day you stop learning how to ride on the track, is the day you hang it up. I pick up new things every day still. I learn from my students as much as they learn from me. I had a guy on a CBR250 PASSING bigger bikes all day long, the CBR can handle the turns much better than us bigger bikes. I can run 4 seconds off of my race pace on my R1 on a 250...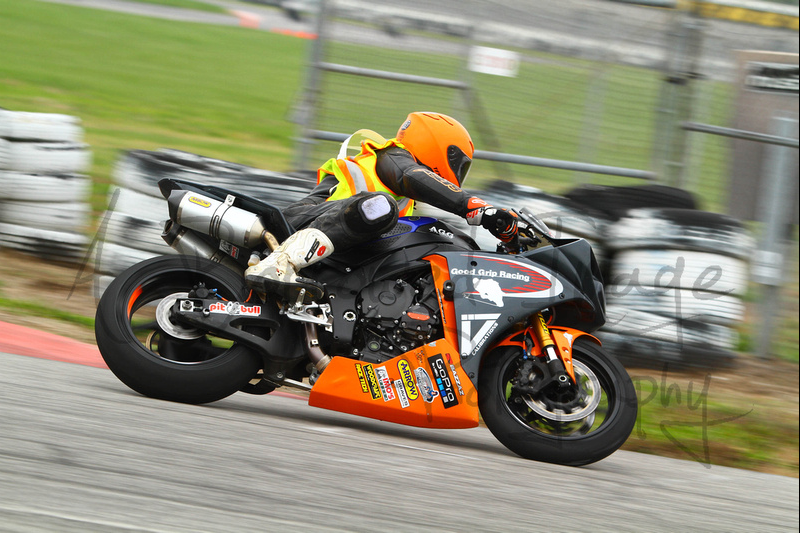 ---
Thank you to my 2012 Sponsors
Michelin Race Tires - Good Grip Racing - Velocity Calibrations
Senior Member
Join Date: Jun 2012
Location: Southwest Missouri
Posts: 610
Thanks: 143
Thanked 117 Times in 94 Posts
Thanks for the report ozbenno. Between what I have read here, and what a couple of guys at work are telling me, I'm wanting to go to track days soon. I would really like the training, and the excitement of it all.
Senior Member
Join Date: Jun 2012
Location: Southwest Missouri
Posts: 610
Thanks: 143
Thanked 117 Times in 94 Posts
Quote:
I had a guy on a CBR250 PASSING bigger bikes all day long, the CBR can handle the turns much better than us bigger bikes. I can run 4 seconds off of my race pace on my R1 on a 250...
Haven't had mine on the track yet, but as easy as it corners on the road I can believe what you typed. Thanks for your input tfs32.
Senior Member
Join Date: Jul 2011
Location: Your Mom.
Posts: 4,996
Thanks: 1,612
Thanked 2,841 Times in 1,315 Posts
Well done for sharing your experience,
All those things you are reflecting upon is what its all about.
Now go book every date you have avail for 2013.
Welcome to the addiction
---
Sent from my mobile phone while driving, waiting for a vigilante Motovlogger to star in his own train wreck.
| | |
| --- | --- |
| The Following User Says Thank You to Aufitt For This Useful Post: | |
Senior Member
Join Date: Jul 2012
Location: North Lauderdale, FL.
Posts: 282
Thanks: 0
Thanked 38 Times in 35 Posts
Sounds like the track experience was a great success! Here in south florida there's suppose to be one in December. But the anual "Toys for Tots" bike run would be a better choice to do. The city and sub cities close down a major highway for a very good cause! Since I have a pretty much new bike, this would be a perfect opportunity to take it on the highway!!
Posting Rules

You may not post new threads

You may not post replies

You may not post attachments

You may not edit your posts

---

HTML code is Off

---