Junior Member
Join Date: Mar 2016
Location: Kelowna, BC, Canada
Posts: 11
Thanks: 5
Thanked 1 Time in 1 Post
New on the fence from Kelowna
---
Hi, I live in the beautiful Okanagan, home of hundreds of winemakers, a beautiful lake, and lots of twisty roads. I currently only own a Yamaha Vino 125 scooter but I'm looking to get either a used CBR 250R this autumn or a new CBR 300R or CB 300F next spring.
I'm leaning towards getting a used CBR 250R if I can find a well looked after one and save at least $1,500 over getting a 300, plus I can get it sooner. I'm also impartial to the 250R as it's close styling wise to my old 2014 CBR 125R. People have asked if it's worth getting a bike in the autumn, and for me 1. I may snag a great deal with people looking to get rid of their bikes at the end of the season, 2. I did manage to ride 2,000 km between November and February, it will get ridden.
So I'm going to lurk around to see everyone's ownership experiences and what to look for when it comes time to buy one if I choose to go this route. I'll also contribute here and there. I am over in the CBR 300 forum as well for the same reason.
Here are some photos:
My old CBR 125R.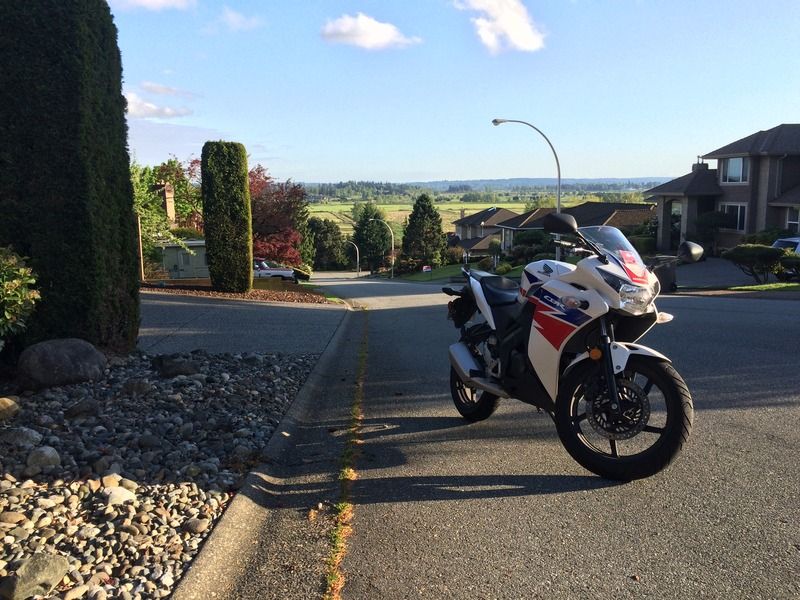 Current ride, a lot slower than the old CBR.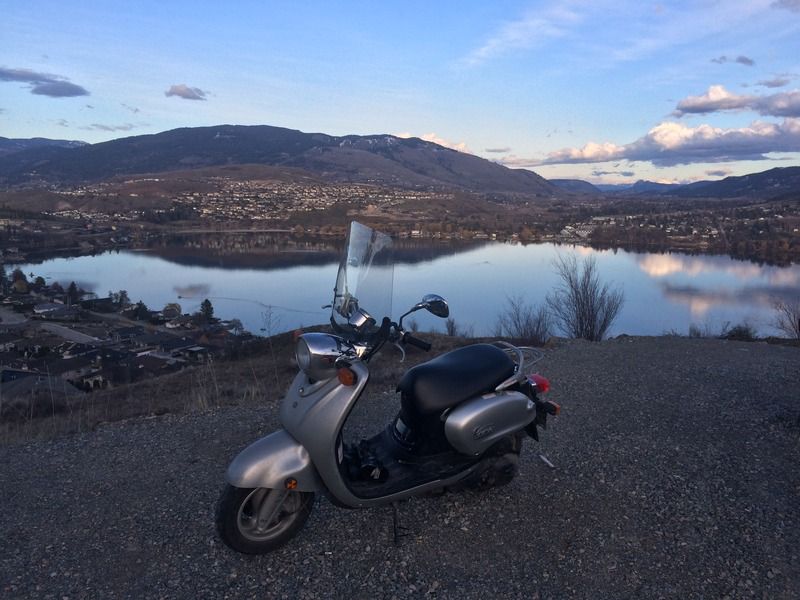 Senior Member
Join Date: Apr 2014
Location: Omaha, NE
Posts: 141
Thanks: 3
Thanked 38 Times in 32 Posts
Welcome. I always buy used. If you are patient you can get a nearly new motorcycle for much less $$$.

That CBR125 looks awesome, why did you get rid of it?
| | |
| --- | --- |
| The Following 2 Users Say Thank You to zirconx For This Useful Post: | |
Junior Member
Join Date: Mar 2016
Location: Kelowna, BC, Canada
Posts: 11
Thanks: 5
Thanked 1 Time in 1 Post
Quote:
Welcome. I always buy used. If you are patient you can get a nearly new motorcycle for much less $$$.

That CBR125 looks awesome, why did you get rid of it?
Thanks! I loved that bike. We had multiple sudden life changes last year including a big move from Vancouver combined with a realization that I needed to buy a house, so I very reluctantly sold my bike. That bike was a perfect for commutes on up to 100 km/h limit freeways or pleasure rides on twisty mountain roads.
The only thing I didn't dare do on it was ride on rural 110 km/h+ freeways. Although I don't anticipate having to do that often at all, I'd still like a bike capable of doing so. And now that I'm close to hitting my house downpayment savings goal, I can really start thinking of buying a bike again.
I have only bought used bikes myself. But the lure of one new bike in my life is kinda nice. Another thing to consider is more HP in the 300. A new CBR 300R or CB 300F with ABS is CA$5200 OTD during Honda's spring clearout so I set a spending ceiling of $3700 including registration and tax for a used 250R with ABS. Hopefully less. I will be patient though, I have from September until Honda's spring clearout event to find one!
Senior Member
Join Date: Dec 2011
Location: Sunset Harbor, FL.
Posts: 611
Thanks: 54
Thanked 59 Times in 53 Posts
Greetings
dkazzed
,
Welcome to the Forum. Best of luck on finding a nice used CBR250R.
---
If your Waiting on me, You're Late.

1999 Black Honda VQR234se 43,000+ Miles
2001 Red Kawasaki ZR-7s 18,000 Miles

A Service Manual Each, + CBR250R.
Senior Member
Join Date: Jun 2013
Location: Chiang Mai, Thailand.
Posts: 385
Thanks: 134
Thanked 76 Times in 64 Posts
Welcome to the forums bro.
There's always that special feeling when you buy a bike new. It's kinda like your first pair of good shoes you get as a kid. The ones your parents say have to be kept polished & respected. It's also like breaking in a virgin. No sloppy seconds. You know the history & any shortcomings are solely your fault. Unlike "A" partner. You can ride it anytime. As hard as you wan't. It will always beg for more & you always have a happy ending guaranteed .
Alot of my firends here have Veno's They are pretty darn solid machines. They do the job & are wicked cheap to run. Hope to see some pics of your new bike if/when you get it bro.
Forgive my dry Scottish humor. But. Its Vacation time! ( Whiskey & beer for all) No more snot nosed kids for two months
.
---
Take care & ride safe.

2012 Honda CBR 250RAb, Sold.
2013 CBR 600RR, Sold.
2013 Kawasaki Ninja 650R, Road. (wife's)
2015 Kawasaki Z300, Road. (wife's)
2014 BMW S1000RR HP4, Road / Flying Machine. (Traded in the wife for it)
To view links or images in signatures your post count must be 10 or greater. You currently have 0 posts.

---
Last edited by tartan_warrior; 03-30-2016 at

11:29 AM

. Reason: Whiskey...