Member
Join Date: Aug 2011
Location: Costa Rica
Posts: 48
Thanks: 0
Thanked 0 Times in 0 Posts
I like that halfy Nelson rig, but I am going to keep shopping.

Black and silver covers may look "cool" on the outside but they turn into ovens in the sunshine. Besides baking your bike, covers will sand it nicely too on windy days if you have any grit at all on the bike or (as always happens) trapped in the fiber of the cover's inner liner.
Senior Member
Join Date: Aug 2011
Location: Portland, Oregon
Posts: 116
Thanks: 0
Thanked 3 Times in 1 Post
thanks for the input,
i thought honda's cover would be more spendy then that. seems like everything i look at from a manufacturer is usually 3-4 times more expensive then if i buy an aftermarket of the same thing so i usually dont bother looking at "genuine honda parts".
this looks like a good price, wish i looked back at this thread a few days sooner. i already ordered a cover from somewhere else. ill come back to this thread once ive used it for a few weeks to let everyone know what i think of it.
---
To view links or images in signatures your post count must be 10 or greater. You currently have 0 posts.
Junior Member
Join Date: Jul 2011
Location: Burlington, KY
Posts: 7
Thanks: 0
Thanked 0 Times in 0 Posts
Cover
---
I x2 the dowco
Guardian® WeatherAll
I bought the Urban Camo one on summit racing for about 85 shipped. i'm glad it came today were going to get 2-3" of rain next 24-48hrs.
Extremely impressed with the quality of this cover as you see in the pictures it covers my bike extremely tight and all the way around to the ground and the underbelly strap was a little long IMHO but the place it attaches to is higher up on the cover than most but pulled nearly all the slack of out the cover.
Also had a Heat sheild on the entire rear of the cover a very thick material inside the cover was very nice it will most certainly keep the paint clean
HIGHLY recommend
Sorry pictures are night right after i got home from work.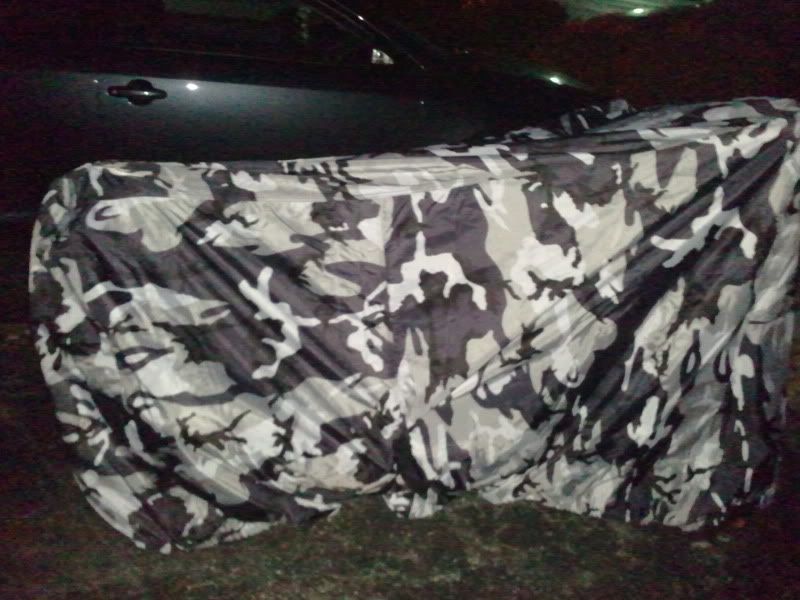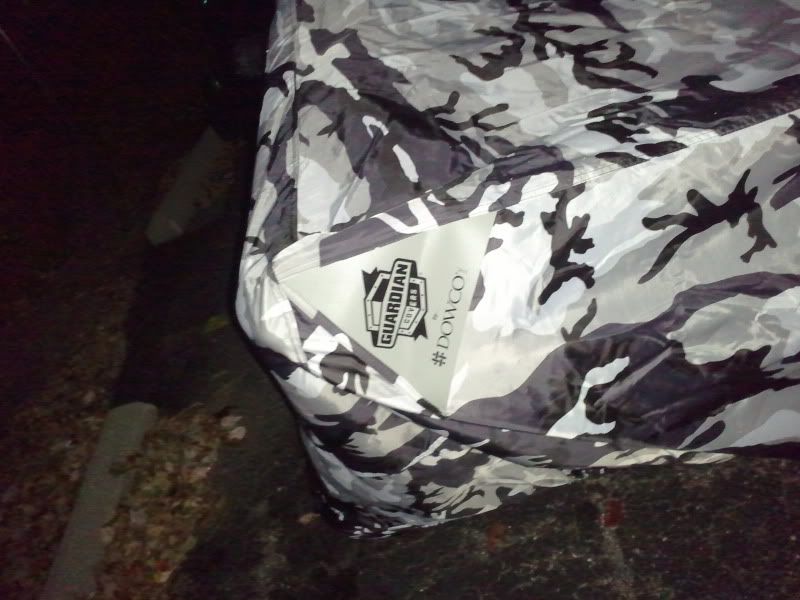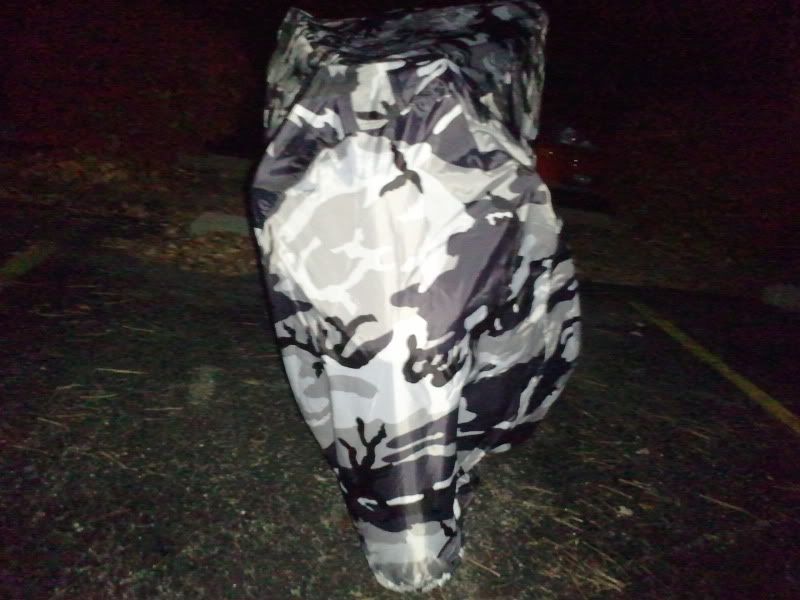 Senior Member
Join Date: Jun 2011
Location: Austin Texas
Posts: 172
Thanks: 0
Thanked 2 Times in 2 Posts
---
PTCary
2011 Red/Silver non-abs
2003 SMD PT Cruiser
2010 Mazda 3i Sport
Junior Member
Join Date: Dec 2011
Location: Okanagan, BC
Posts: 27
Thanks: 0
Thanked 1 Time in 1 Post
Has anyone ever bought or used a motorcycle shelter like the ones at speedwayshelters.com ?

Are they worth the $$?
I got the Dowco 50003-02 Guardian WeatherAll size Large for $72.61 with free shipping from Amazon, and it fits and looks great! I would highly recommend it. The Large fits almost perfectly.
Junior Member
Join Date: Aug 2012
Posts: 3
Thanks: 2
Thanked 1 Time in 1 Post
CBR250R Cover Recommendations
---
Sorry if this is posted elsewhere--just bought a CBR250R and need a cover for it--all weather. Any suggestions on brand and model that fits well?
Senior Member
Join Date: Apr 2012
Location: Memphis, TN
Posts: 271
Thanks: 110
Thanked 93 Times in 64 Posts
I have the Dowco Guardian Weather All Plus Motorcycle Cover. dowcopowersports.com works fine

| | |
| --- | --- |
| The Following User Says Thank You to katedwolf For This Useful Post: | |
Junior Member
Join Date: Aug 2012
Posts: 3
Thanks: 2
Thanked 1 Time in 1 Post
Thanks!
---
Do you remember what size you have?
Posting Rules

You may not post new threads

You may not post replies

You may not post attachments

You may not edit your posts

---

HTML code is Off

---