Junior Member
Join Date: Oct 2017
Posts: 28
Thanks: 0
Thanked 0 Times in 0 Posts
Chain and pumping up tires
---
I serviced my chain before the winter and had it lubed and perfectly cleaned. I kept it under a Nelson rigg defender cover all wintry and since Iíve taken the cover off and started riding it again this year the chain is rusted again. I havenít taken the time and energy to reclean it and was wondering if itís ok for the chain to have a little rust on it. Also when I bought the bike shortly after I had an oil change done and they filled the tires since then I havenít had to mess with them but they seem like they could be low so I went to the gas station to fill them to what 29 psi which is what I read was the recommended and I couldnít get the gas station air valve to fit and was wondering how you guys pump your tires?
Moderator
Join Date: Aug 2011
Location: southern Arizona, USA
Posts: 1,993
Thanks: 327
Thanked 408 Times in 317 Posts
The only cover I will use in a garage is an old bedsheet. You do not want to trap moisture under the cover as that leads to rusted parts.

For outdoor storage, I've never used a cover. But, I usually rode the bike regularly or had covered storage (unheated garages can get pretty cold and damp; proper ventilation helps).

Ride the bike and re-lube the chain at your first convenient time.

29 psi sounds right for tubed 250s (that is what was recommended for the old Honda Rebels). I have a compressor in the garage. Tire pressures get checked Saturday mornings.

When touring, it can be a challenge to find a gas station with an appropriate air hose connector that works with motorcycles. I toured much of Flagstaff, AZ, looking for one when visiting the youngest boy.
---
John: '09CRF230L (Li'l Red Piglet), '89NX250 (sold)
Propelled by Penguin Power
Nekkid motorcycles feel faster
1st bike: a gently used 1958 Matchless 250 thumper
---
Last edited by jsonder; 02-28-2018 at

05:26 PM

. Reason: psi
Member
Join Date: Sep 2017
Location: Southeast Washington State, Town of Prosser
Posts: 48
Thanks: 5
Thanked 0 Times in 0 Posts
I usually go to my local Les Schwab and they have the correct fitting to fit my motorcycle tires.
Junior Member
Join Date: Feb 2018
Location: Elwood, Indiana, USA
Posts: 14
Thanks: 0
Thanked 0 Times in 0 Posts
I have a portable compressor I carry in my tail bag, or I can connect to my truck off its air lines.

-Aph
---
~Ἀφροδίτη (af-rə-DY-tee)1/4L CBR, GL1000
Senior Member
Join Date: Apr 2011
Location: Brookfield, MA
Posts: 1,300
Thanks: 69
Thanked 438 Times in 281 Posts
Slight surface rust on the chain shouldn't effect it's performance, but if you accumulated surface rust on your chain that quickly then it was obviously not lubed completely or correctly.
I've always used Bel-Ray Super Clean wax-based spray lube and have never had a spot of rust showing on my chain in since I purchased the bike new in 2011.
I have a small electric compressor that I bought at Walmart years ago for under $50 that I use on both my bike and car. Beats dropping quarters into the ones at convenience stores and since air pressure is one of the priorities of any pre-ride check I've never had to add air on the road.
Junior Member
Join Date: Feb 2012
Location: Quezon City, Philippines
Posts: 4
Thanks: 90
Thanked 1 Time in 1 Post
Re: valve stem fitting problems
---
The closeness of the wheel spokes to the tire valve stem makes it difficult for us to get those gas pump hose connectors in. Perhaps you can install a pair of bent tire valve stem on your wheels to solve this problem.
Here is a sample of what it looks like -
https://ph-live-02.slatic.net/p/8/90...bp-product.jpg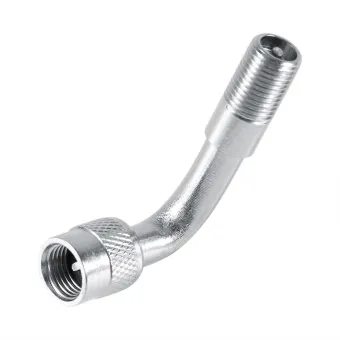 You might be able to find something like that in online shops.
Senior Member
Join Date: Sep 2011
Location: WI
Posts: 1,706
Thanks: 244
Thanked 258 Times in 197 Posts
Junior Member
Join Date: Dec 2017
Posts: 20
Thanks: 0
Thanked 0 Times in 0 Posts
I check my tires about once a week. For regular maintenance, I use a decent bicycle pump, the large kind that you place your feet on and push a long handle up and down. Takes maybe a dozen pumps to add 3 or 4 pounds. I also keep a cheap harbor freight foot pump along with a tire plug kit in my tank bag for emergencies.
Posting Rules

You may not post new threads

You may not post replies

You may not post attachments

You may not edit your posts

---

HTML code is Off

---