Full glove or short???
---
Gauntlet or Short?
What do you use? I'm deciding on what glove to use. I have both a leather jacket and textile/mesh jacket. My current gloves are perforated leather yet have minimal protective qualities. I was thinking the Scorpion SG3 MKII gloves or Alpinestars GP Pro gloves. Not sure If I want to have the full gauntlet glove or short gloves though. I have been riding a year and am not sure what it needed. What do you think?

Also, I see alpine star gloves on ebay and figure they are knock offs by their price. Would you take the chance they are decent. My current gloves are knock off icon's and are great for the price. Just curious...
Senior Member
Join Date: Jul 2012
Location: Kentucky, USA
Posts: 2,212
Thanks: 656
Thanked 619 Times in 402 Posts
A) Do not buy knock-offs. You might as well get some work gloves at Harbor Freight or ride bare-handed.

B) Gauntlet.

C) Buy through a reputable authorized retailer.
| | |
| --- | --- |
| The Following User Says Thank You to Stichill For This Useful Post: | |
Senior Member
Join Date: Apr 2011
Location: Brookfield, MA
Posts: 1,301
Thanks: 69
Thanked 438 Times in 281 Posts
I've always worn shorties. I can't stand the thick "gauntlet" type of gloves.
I have both A-Stars and Icon gloves and both are well made and comfortable, but I prefer a simple leather glove without all the armored knuckles and stuff so I didn't pay that much for them.
A-Stars and Icon make good gloves, but some of my favorite gloves have also come from lesser known manufacturers like Castre, Fly and TourMaster over the years.
The best ones for fit and finding what I really wanted have come from trying them on and buying them in person at a bike dealership rather than ordering them online.
In the case of gloves there's nothing like being able to try the merchandise, check the fit and see what you're buying in person.
Member
Join Date: Jan 2016
Location: Fort Collins, CO
Posts: 75
Thanks: 5
Thanked 8 Times in 7 Posts
I have the Scorpion SG3 MKII gloves, SHORT cuff. ....I really like them and they are true to size; they stretched out a little as all leather does. they're VERY comfortable.

Now... that being said, I do wish sometimes that I got the full gauntlet glove version because I do get some wind and rain up my sleeves, no matter how tight I velcro cuffs on my jacket. :/

BUT, I do not know for sure since I have not tried full gauntlet gloves yet! I'll probably look at them more towards the fall when it's getting cooler!
---
2012 CBR250R Naked Orange
Senior Member
Join Date: Sep 2011
Location: WI
Posts: 1,724
Thanks: 246
Thanked 258 Times in 197 Posts
Just bought a set of Alpinestar GP Plus gloves. Full gauntlet with lots of protection. My last gloves (Joe Rocket) lasted almost 10 years, and they weren't that great.
I decided I needed to get something better. As you go on with your riding career you will appreciate quality safety gear more and more. I used to ride with leather riding boots, but decided I wanted more protection so I found some good used Sidi sport boots with armor and stiff sides. Ankle or finger injuries are a bear to heal, so having extra protection pays off if the need arises.
Short gloves and boots and mesh gear doesn't appeal to me at all, no matter how hot it is (and it does get hot and sticky).
Senior Member
Join Date: Feb 2012
Location: coogee beach australia
Posts: 3,226
Thanks: 976
Thanked 1,328 Times in 832 Posts
two basic ways of looking at the question,
comfort/rideability and safety/protection..
most gloves today attempt both,
with varying success..

for general riding esp in hot weather
i prefer a/s summer gloves, which do have
additional leather at typical contact points
plus knuckle protectors, well integrated thus
not uncomfortable or restrictive etc..
they are easy to dry or rinse and dry..
lightweight, easy on/off, fit in pockets etc..

full leather gauntlets are obviously better for
cold wet weather riding, while good summer gloves
are better for summer etc..

some really nice very protective armour gloves
with great features such as boas fastening etc
are obviously well crafted riding/safety gear,
which also cost more..
another factor for some..

as truefaith observes, fit is everything
as in other motorcycle safety etc gear..
the best most expensive gloves that dont fit,
can only be a distraction while riding,
ie, contrary to focus/awareness
thus also to potential safety..

basically, go for an established maker
of gloves that fit well when tried and tested
[pick things up, make fists, move thumb around etc]
and according to your riding environment [eg heat,
cold, rain, day/night etc] - within your budget..

if budget is irrelevant to you,
build up a collection..
if not, choose wisely
and well..
Senior Member
Join Date: Jul 2012
Location: Kentucky, USA
Posts: 2,212
Thanks: 656
Thanked 619 Times in 402 Posts
My personal summer riding gloves as well as late spring / early fall (mornings with grip heaters on).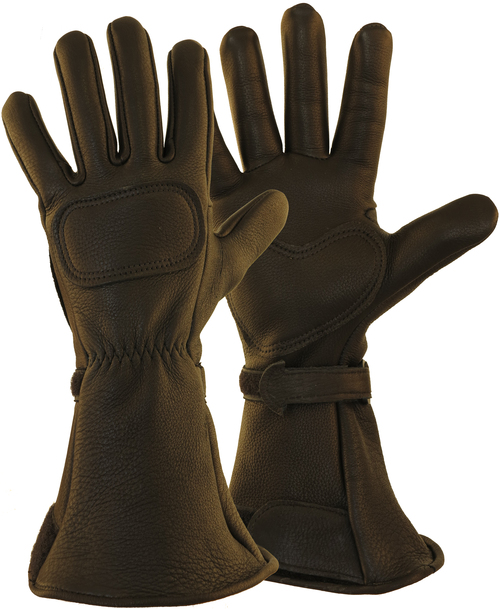 Lee Parks DeerSports
Senior Member
Join Date: Jul 2012
Location: Kentucky, USA
Posts: 2,212
Thanks: 656
Thanked 619 Times in 402 Posts
Senior Member
Join Date: Apr 2014
Location: Rochester, NY
Posts: 196
Thanks: 24
Thanked 29 Times in 28 Posts
I wear cheap joe rocket gloves that are tearing at the seams after just three seasons of normal use. They would NOT hold up in a crash. They only protect me from the wind...

Gauntlet gloves will offer superior protection. Im upgrading soon, and I'm buying leather gauntlet gloves, probably from A*

Don't buy knock off motorcycle gear. Ever. Believe me.
Senior Member
Join Date: Apr 2013
Posts: 119
Thanks: 12
Thanked 17 Times in 12 Posts
I went full gauntlet because I realise that I don't really appreciate or use the conveniences of those shorter, more basic gloves
I can't get cash out of my wallet with either gloves
I may be able to operate my handphone with the short gloves, albeit with much frustration
Doesn't take much longer to glove up the long gauntlet gloves
I'm alright with wearing wet gloves (yes, the long leather gloves stink up much longer than short semi leather ones)
And my gauntlet gloves do ventilate well enough even in the tropical climate that I live in, my hands don't really perspire much either.

So now I keep the short gloves for really short rides or for passengers
Posting Rules

You may not post new threads

You may not post replies

You may not post attachments

You may not edit your posts

---

HTML code is Off

---