Discussion Starter
•
#1
•
Hi everyone,
I put a Delkevic 450mm carbon slip on after my stock exhaust got totally rusty last year. I love the low rumble, but I'm looking to make the exhaust more quiet.
I'm not much into performance side - I just liked the looks and the sound from the videos was great - exactly the low notes I was looking for, just much louder than on videos.
Delkevic sent a longer baffle (and I bought a spare one to tinker around), it helped a bit, but it's still loud.
I was wondering if someone had similar experience or any ideas.
I was thinking about 3 options:
1) Weld a washer around the end of Delkevic's original baffle to seal the hole between it and the exhaust. Then drill holes in the side of the baffle so the exhaust gases are forced into the baffle and out through it, instead just around it and straight out.
2) Weld two smaller baffles together and pack them for a homemade version of this: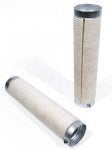 Then put it in the pipe before the can of the silencer. I couldn't find one narrow enough to fit so it would have to be a homemade version.
3) Something like this:
Pack around the existing baffle origonal doesn't have holes), try to squeeze it in and secure the packing so it doesn't get blown out. Not sure that would work with how the exhaust pass around Delkevic's baffle and straight out of the exhaust, though.
The exhaust is a bit tricky for conventional stuff with all the angles:
Any suggestions really welcomed