Discussion Starter
•
#1
•
I would like to share with you guys the progress I have made with Little Repsol.
February 17, 2015 contacted the person who owned the bike with about 1,500 broken in miles. Come to find out it's Maui Moto Adventures who's selling the bike.
The choices was either my cousin's 2014 Ninja 300 with (see photo below) or the 2013 CBR250 Repsol Edition.
Call me stupid but, I went with Little Repsol.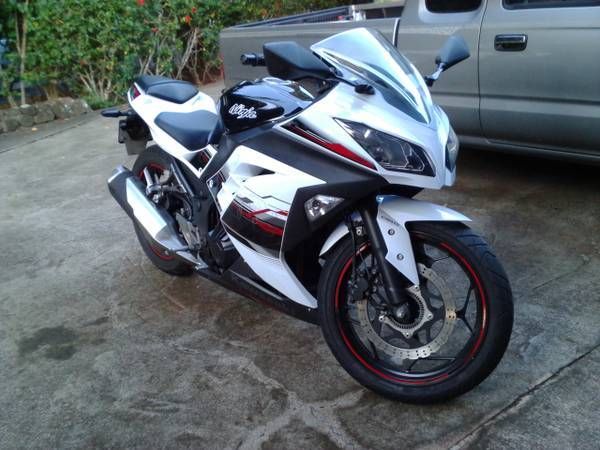 February 19, 2015 The First Day I laid eyes on her in person. I could tell it hasn't been ridden much due to the rusty looking chain. Anyways cool guys to deal with and the bike was a great purchase. Little Repsol came with some few things installed already like Yoshimura R77 Exhaust, Yoshimura Frame Sliders, and PSR adjustable levers (foldable model).
February 25, 2015 Finally, picked up the bike and left it at a friend's house due to not having proper riding gear
. Being my first bike I started it Neutral, shifted into 1st and stalled. lol
Forgot Kick Stand was down.
March 4, 2015 Goodies started to come in for Little Repsol. Purchased the Carbon Fiber Tank Pads and Fuel Cap Cover.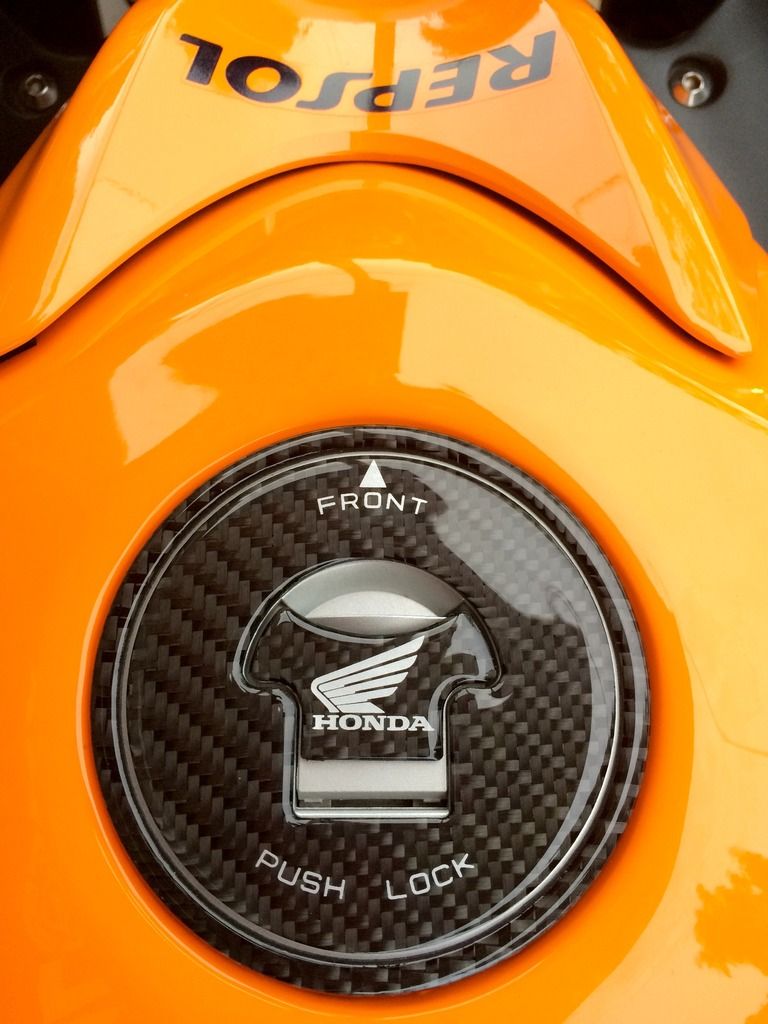 March 6, 2015 I just
received
my Smoke Sequential LED Tail Lights by Motodynamic. Very easy to install and was direct plug and play with no hyper flash.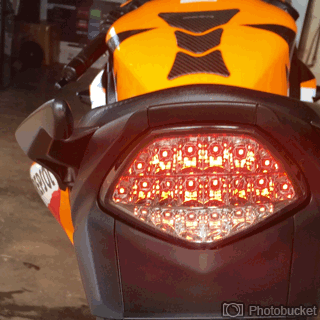 March 9, 2015 Black Single Seat Cowl came in for 2015 CBR300R (#08F71-K33-D00ZC).
March 10, 2015 Yoshimura Fender Eliminator kit came in. That rear fender was heavy.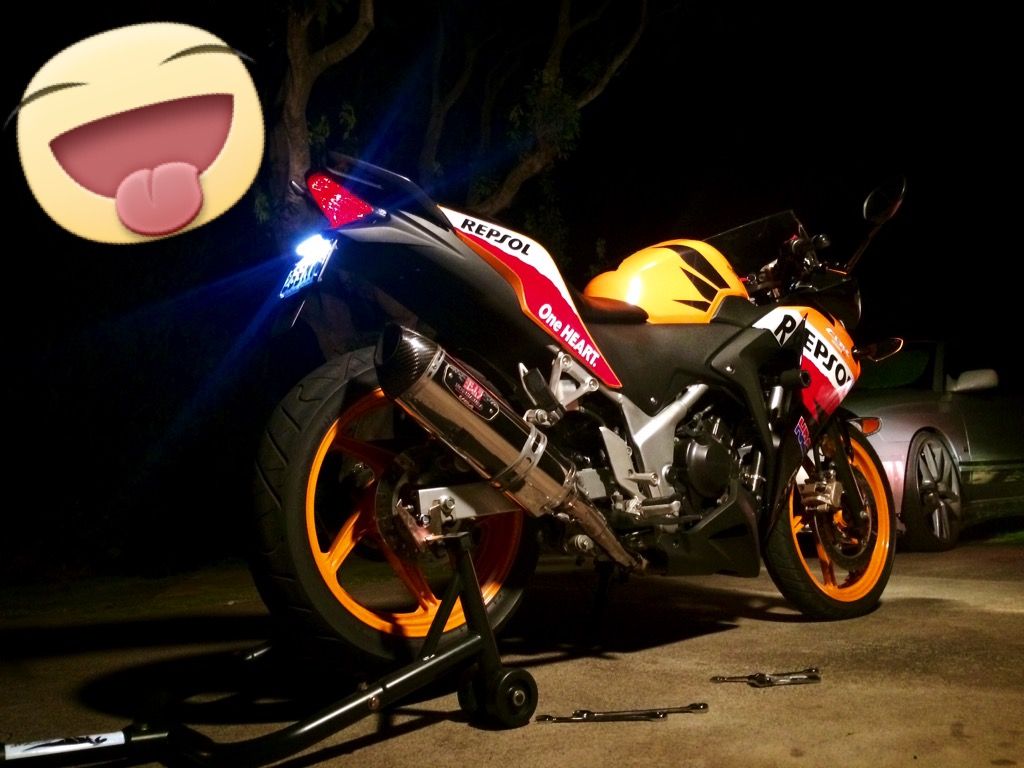 March 11, 2015 Drive Chain Case Carbon Style Chain Guard (#08F70-K33-A00) for 2015 CBR300R came in and makes Little Repsol stand out more.
March 13, 2015 Hot Bodies flush front signal came in but, didn't install them due to fitment issues. (I would like to note that I would never purchase
another
Hot Bodies product. Their product quality isn't the greatest and fitment sucks).
March 14, 2015 Yoshimura Stand Stoppers came in to go with the T-Rex stand that I had on the side. Also, decided to change the Position lights to Amber to make me more noticeable.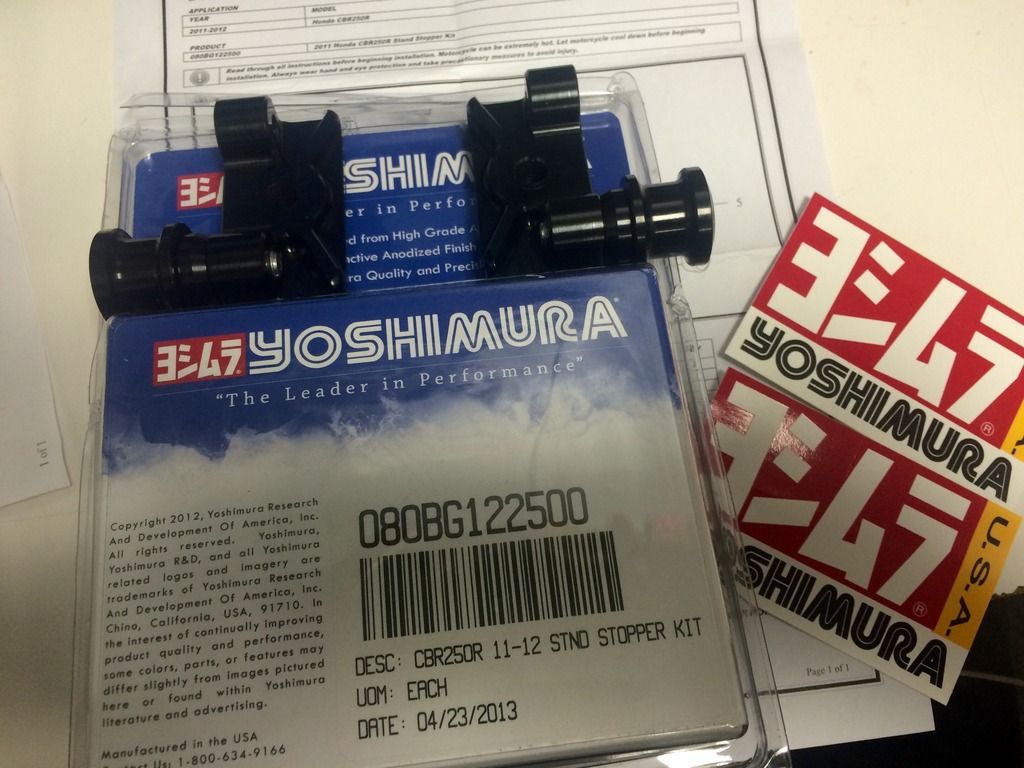 March 18, 2015 Due to fitment issues I finally manage to install the flush mount signals. Washers was required to get them to fit somewhat better.
March 27, 2015 After a month of waiting my Front Fender Carbon Style for 2015 CBR300r (#08F72-K33-A01ZA) finally came in.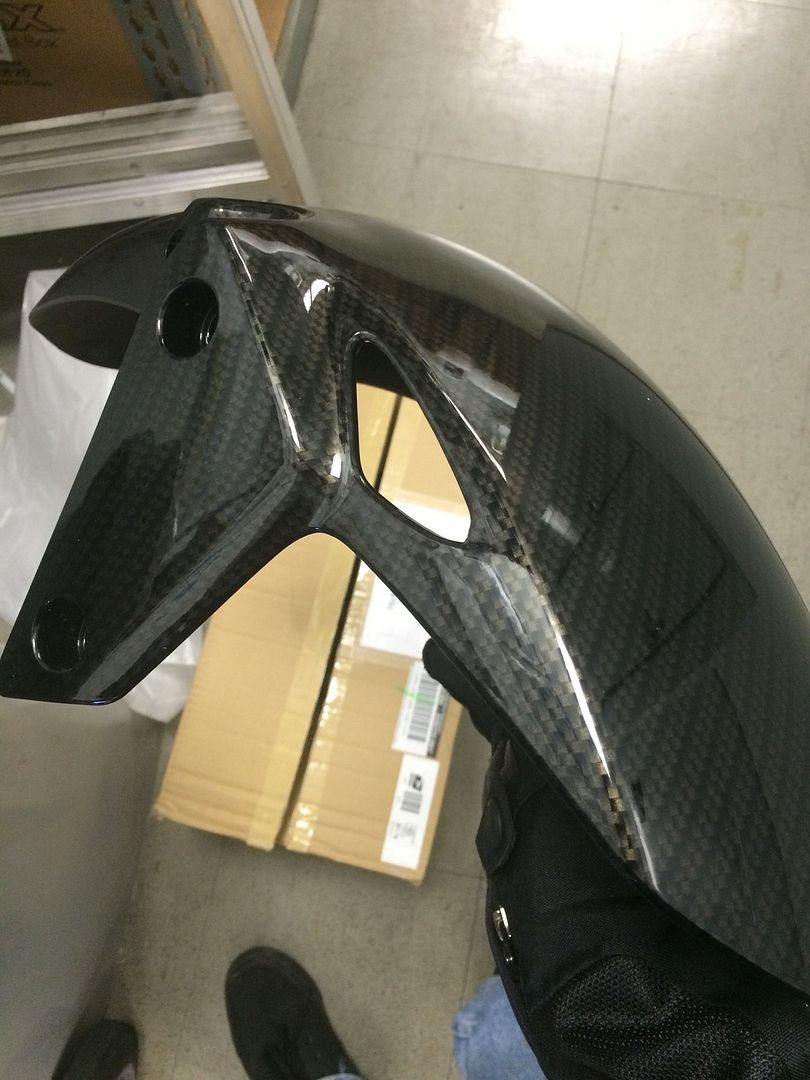 April 6, 2015 I think my Little Repsol deserves to have this little decal.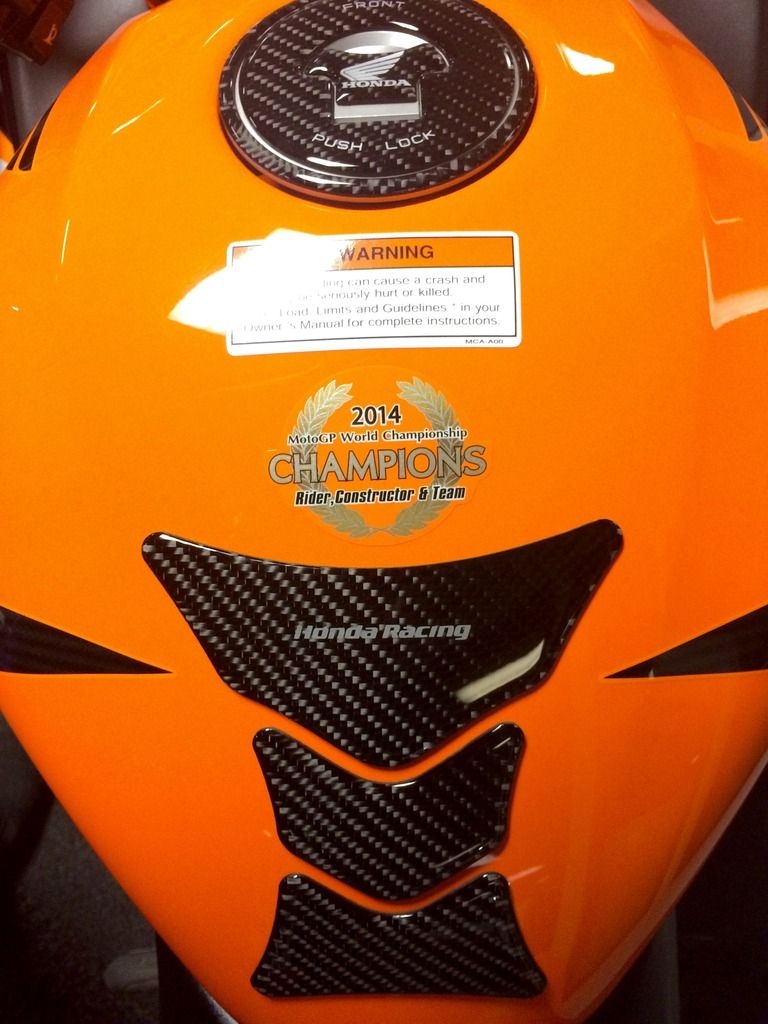 April 25, 2015 Zero Gravity Dark Smoke Double Bubble came in.
April 30, 2015 Yoshimura
Exhaust
bracket came in and finally got rid of the ugly rear pegs.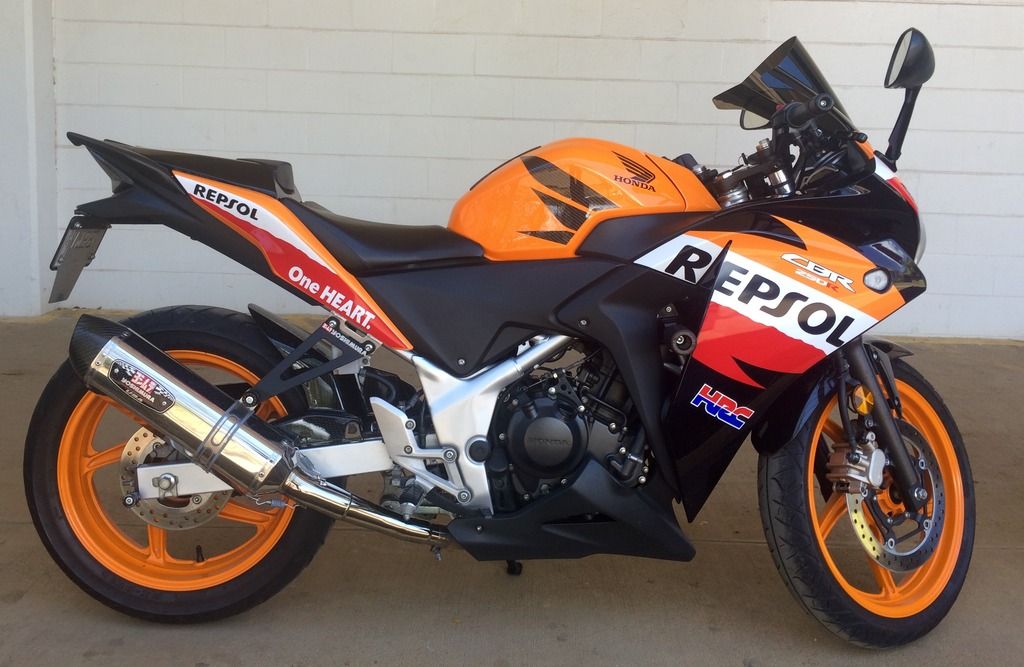 May 5, 2015
CBR500R OEM Mirrors came in. Supposedly they're little shorter and more aggressive in my opinion.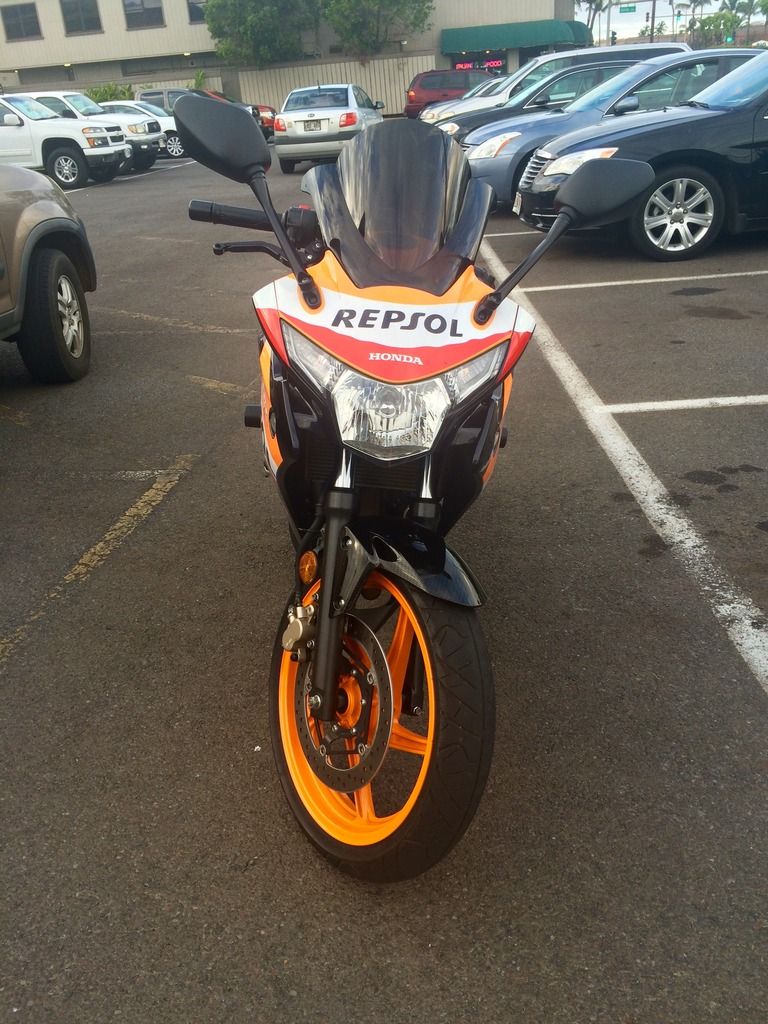 May 13, 2015 Yes, I know it's retarded to have HID installed with no projectors but I need more visibility at night.
Finally The current state how Little Repsol Sits with 7,300 Miles.
I will be changing out a couple fairing pieces this summer and possibly my riding seat as well.
Been riding Little Repsol everday since and also managed to get my MSF Course done on May 10.
I ride about 80 miles a day and love it. I even put my car into storage back in March. Rain or shine I'll be out on the road with proper gear.