I have posted this before, but since we now have a Ride Report forum I will post it again here, with a map added (now that I know how to do that!). Sorry there are no pictures; the day was in July 1995 or 1996, well before digital cameras became ubiquitous, and long before the current incarnation of the CBR250R.
I was on a CB250RS, which I owned for several years when I was working in England. I had finished sheep shearing for the year, and had month before I started ploughing, so went for a three week jaunt around Central Europe.
I wrote this piece for use with my students a couple of years ago. When I set an assignment I do it myself to get a feel of what is involved, as well as to provide an example.
The route that day covered about 145 km (90 miles), starting in France, passing through Italy, and finishing in Switzerland. The Great St Bernard Pass is only open during the summer. Large vehicles are not allowed to use the road. It is certainly not the kind of place you get to see on a Kontiki Tour!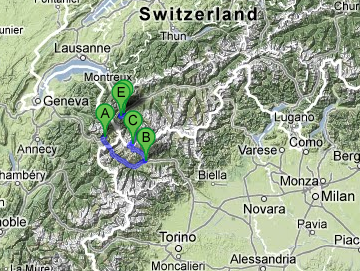 https://maps.google.com/maps?saddr=...Nu_oc7aORzECUo6cMZ0e9Q&oq=Mar&mra=ls&t=m&z=10
http://en.wikipedia.org/wiki/Great_St_Bernard_Pass
One July Day
I camped the night at Chamonix, near the foot of Mt Blanc, the highest mountain in Europe. Rising at first light I started a short walk to check the place out. It turned into a rather long hike as I was drawn on up a steep mountain track by the ever-changing vista. I came to a fork in the path. One way went on up, and the other headed to the bottom of a glacier. I chose the latter, and soon came to the surprisingly noisy ice face.
Apparently frozen solid, glaciers are really rivers of ice and snow, constantly moving, albeit ever so slowly. The movement of the solid mass, and its transformation into liquid gives rise to continuous crackling and popping sounds. I was transfixed for a few fascinated minutes before realising it was time to move on if I was to get on the road that day.
Returning to my tent, I decamped, loaded my motorcycle, and was on the road heading for Mt. Blanc Tunnel by about 10.30. I stopped for a few minutes at the French end, wondering what to expect before entering its darkness for the next 12 km. The road is straight and narrow, just two lanes with no division barrier. The sensation is strange, with the constant echo of engines, the oncoming lights, and a feeling of being committed. There is no room for stopping, or passing; you have to keep going. Travelling at 80 km/hr, reaching Italy takes a very long 15 minutes.
Eventually I did emerge, to be greeted by a large sign advising motorists of the bewildering range of speed limits on Italian roads – big, fast cars are allowed to go faster than small, slow cars! I headed down the steep, winding road to the valley below. Milan was just a couple of hours away, but I did not make it.
The Alps called again. Soon I found myself leaving the main road at Aosta, to head up an increasingly narrow twisting alpine road. I stopped at a farmhouse to buy a block of homemade cheese. The climb continued eventually coming to the St. Bernard Pass on the Swiss border, where they really do have St. Bernard dogs. There was quite a bit of snow around, and an icy lake, but the air was fresh, not chilly. In the afternoon sun I was wearing just a T-shirt, jeans, and a leather jacket.
Heading downhill again, I went through mountain grasslands, then vineyards, for about forty thrilling, winding kilometres to the outskirts of Martigny. Again the mountains beckoned, so onward and upward I went. As dusk fell I came to a small pub not far from the French border, where I made camp. After a hearty pub meal, I drifted off to sleep to the sound of cowbells in the surrounding hills. The day had been a taste of motorcycling heaven.