Discussion Starter
·
#1
·
Just want to share some photos that I took while replacing the Stator. These photos / comments may help for those that run into the same issue.
The stator is located inside the left crankcase with the wire going up.
Tip: Pull back the rubber sleeve to review the two connectors.
Here is my original stator. >20k miles on it. Looks fine but not getting the enough voltage when testing it with a multimeter.
New one from ebay. Cost $50 USD and comes with replacement gasket. It came with 3 plastic tie holding down a portion of the wire. I wasn't sure if it was suppose stay on but I cut them out.
Here is the new stater assembled to the crankcase cover. The rubber grommet needs sealant. I used what I have on hand.
Removing the old gasket from the crankcase cover was a big pain. I used a razor blade very carefully and slowly scrapped away the old gasket. This took the most time. It was stuck on the cover and not on the engine which made it more convenient as I can sit down comfortably at a table to scrape off the old gasket.
Reassembly. There are 9 bolts. I hand tighten every 4th bolt going clockwise several times around. No torque specification was provided as per other discussion thread.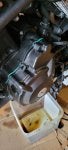 Reassembled. Remember connect the cables and pull the rubber sleeve back down to cover the connector.
I use a heavy duty A ladder to keep the bike up and a bubble level stuck to the disk brake to ensure the bike is leveled before adding oil back in.