Discussion Starter
·
#1
·
On Friday morning I called the dealership where I put my deposit down to check the status of my delivery. The news wasn't good. They told me the date has been pushed back again (to mid July). That wasn't what I wanted to hear so I got on the Honda website and started calling every dealership with 100 miles to see if anyone might get one sooner than that.
After several calls to other places with the same vague answers on dates, I found a dealership about 45 miles from where I live. I asked them when they might be getting a black one in. The guy is like, I have one right here on the floor... in fact, I have a red one too.
<--- after several seconds of this, I said please let me talk to as sales person right now!
Long story short, I put down a deposit, then drove over to my local dealer and got my deposit back. I made the 40 minute drive down to sign the papers this morning and now I'm officially a CBR250r owner!
To make it even weirder, when I got to the dealer, they had not one, but TWO black CBR250rs! Apparently someone brought one back. I was tempted to buy that one. That offered it to me for cost but It wasn't worth it to save one $300.
Here' the proof... my fuzzy photo of 3 CBR250s on the showroom floor, right next to each other. (the one in the foreground is the one that was returned - the stickers had been removed). Mine is the third one over. It's kind of hard to see but it really is!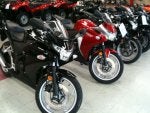 This one is mine! ----->